Has your dog gone crazy and scratching himself? Then you definitely have fleas at your property and they must be irritating and bitting your pets. Fleas live around the pet's fur and suck their blood for a living. Contact professionals for flea control Pakenham as soon as you see them and give a safe environment to your pets. Pest Control Pakenham is a leading and professional pest control service provider. We have years of experience in exterminating pests. Our team is trained and certified to exterminate flea using eco-friendly solutions.

Pets like dogs and cats are the main target of fleas. Generally, fleas don't bite humans but their bite can cause infectious disease, red marks and irritation. Regular scratching and itching bites marks can cause skin allergies. Fleas are small in size but female fleas are larger than a male flea. They can easily hide in the pet's fur due to their tiny size. They are irritating pests as their bites lead to allergic reaction and discomfort. Contacting professional control for fleas eradication is the best option to protect your pets. Avail emergency flea control services with us to get rid of flea infestation.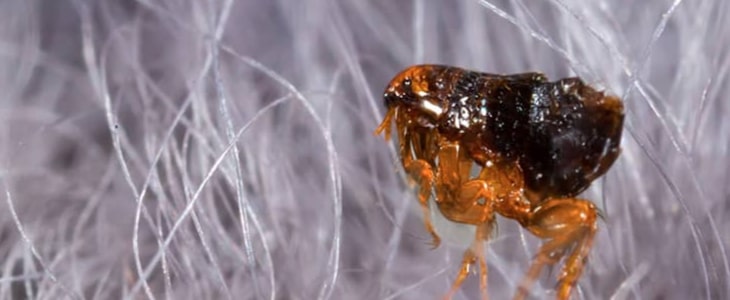 Signs of Flea Bites
Flea bites can cause irritation, distress, and discomfort in humans. But flea bites actually torture the pets. If you observe your pets biting own body parts and scratching that means your pet is bitten by fleas. This is the sign of flea infestation.
Flea sometimes bites humans and bites leave the red spot which causes itchiness. But identifying flea is not easy because other insects can also bites which can leave marks and itchiness. Constant Scratching on the spot of flea bites can lead to irritation and skin allergy.
As compared to other insecticides, fleas bite less swell. Bites of Flea leave brown and red marks. If you experience or feel irritation and see swelling then you should go to professional exterminator for flea control services. Pest Control Pakenham provides flea treatment and can remove all fleas from and around your place and pets.
Types of Flea
Cat flea lives in the fur of cats and thrives on their blood.
They are mostly found where the cat rests such as basket and cat house.
Fleas use thin and long legs to jump. They are wingless and thick.
Dog flea sucks dog's blood and lives around them in their fur. This type of fleas also irritates and bite humans.
Adult fleas look brown. They look reddish-black after having a meal.
Their sizes differ from 1mm to 4mm. They have offwhite colour larvae measure up to 5mm.
Professionals at Flea Control Pakenham are experienced and trained to remove all kinds of fleas. Hire Pest Control Pakenham and get rid of fleas at an affordable cost.
Interesting Facts About Fleas
The average number of flea bites in a day is around 400times
Fleas revive after 12 months of frizzing
The female flea is the most hungry pests. They have the capability to eat foods up to 15 times of her weight.
Flea uses its legs and jumps to go in various direction. They can continuously jump around 30000 times without stopping.
Fleas are blind and deaf.
Why Choose Us for Flea Control Pakenham?
We are a renowned and established pest control company in Pakenham. We focused to exterminate fleas to provide a safe and comfortable environment for pets. Our flea control services are available in commercial areas too. We offer affordable and eco-friendly Flea control service.
Over years of experience
Wide range of flea and pest control services all across Pakenham.
24*7 customer service
100% safe and satisfied results
Use of advanced machinery and effective insecticides
Expert and licensed controllers
Emergency and same day pest control service
Quick and quality service