Moths are small flying insects which can be in any colour, size and shape. In very cases, moths are not very harmful to humans but if they enter your house, they can easily damage your cupboard, wardrobe, clothes and even carpet and leather items. Moths are a big matter of concern for the bakery and floor industry as they suffer huge losses every year from these pests. Pest Control Pakenham provides the best Moth Control Pakenham services in households and industrial areas.
Australian Moths are Usually Found in 4 Types:
Moths larvae with straw-coloured without any marking on their wings. They are responsible for making big holes in your clothes.
Dark coloured moths larvae with three-dot marking on their wings. This type of moths is also responsible for big holes in clothes.
Adults with dark colour and few spots on their wings. Use leather and woollen pieces of stuff for feeding.
Moths with a white head infest food items rather clothes and wardrobe.
Recognising Moth Infestation
Recognising moth infestation can be very difficult sometimes as these pests are working in very dark areas of your house and very small in size. But doing a routine check and bit of alertness can be very helpful in identifying them:
Moth Crawling:

If you see any crawling moth in your house or office, it can be a sign of moth infestation.

Check Food Items:

Sometimes the food present in the corner of the pantries have cocoons and larvae of moths. So do a regular check on the corners.

Small Moths in the Pantry:

If small moths are flying around the pantry. Then you should take the help of professional pest control service to get control on them.

Caterpillar Moths:

Caterpillar moths are found in the food which is not getting in the notice for many times. These caterpillar moths can cause heavy breathing problems like asthma.
Risk Associated With Moths
If you didn't recognise moths in your house or office, they can be very dangerous for your clothes, wardrobe, woollens, leather pieces of stuff and for carpets.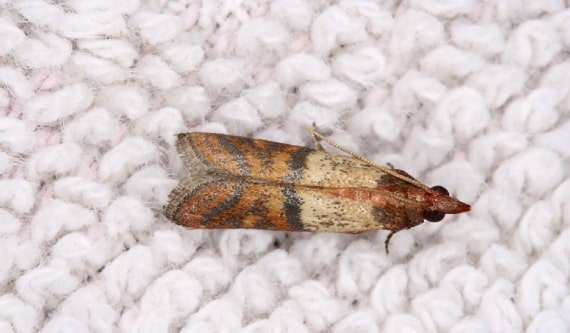 These are The Risks Associated With Moths:
Moths can infest your food by their waste. If you eat that infested food, serious health issues can occur.
Moths destroy our blankets, bedsheets, clothes etc and when our skin comes in contact with these things, it causes a heavy itching and allergy.
When they are in their caterpillar stage, their hairs are very dangerous as they cause breathing problems like asthma.
Late identification of moths is the biggest problem as they hide in the dark places in our home such as corners of the bed, deep inside of the cupboard etc. These pests get under notice when they damage your things.
They work very fast and their tendency to growing is very quick as they have only life of two weeks. If they get out of control, they infest your whole home or office.
Expert's Assistance
When the population of moths get out of control then it is very harmful to your home or office. In that case, you should take the expert's assistance. Pest Control Pakenham provides you with the best Moth Control Pakenham and other pest control services. Our experts use a natural way for pest control which is safe for your family and for the offices. Our experts are well trained and certified green pests controllers with years of experience in pest control services. We provide you only verified experts which ensures your safety. So, call us on (ph no) or book our pest control service online.
FAQs on Moth Control Pakenham
👉 What are the different methods for eradicating moths?
🙋 We use various methods for eradicating moths. It depends on the infestation and location of the moth. Pesticides spray is a proven method for killing moths. Contact us to know more about our moth control service.
👉 Will your spray for the moth contaminate my food?
🙋 No, we don't spray near the food. Our moth controllers will suggest you remove the food item if there will be any chance of contamination. In fact, it is in our guidelines to cover the food items and other things during pest control service.
👉 Does everything inside the property need to be washed after your moth treatment?
🙋 We use low toxic solutions which are not harmful to humans but effective in killing moths. There is no need to wash everything after moth treatment. Reach us for after service queries.