Rodent Control Pakenham – Rodents include rats and mice. There are two main species of rats are found in Australia which is Black Rat (Roof Rat) and Brown Rat (Norway Rat). Rodents cause plague and can be very dangerous for your family's health. In these days, rodents are a very common problem for every household as well for offices.
To solve this situation, you can take the professionals assistance. Pest Control Pakenham provides you with the best Rodent Control Pakenham services and other pest control services. We are the leading and most recommended pest control services in Pakenham

HOW TO RECOGNISE A RODENT INFESTATION
There are so many ways to recognise a rodent infestation. Here are some of the best tips for recognising rodents infestation:
Sounds:

Rodents are not easy to find in the dark. But they produce sounds in the dark from which you can easily recognise them.

Odour:

If a room is not ventilated well, then you can easily smell a rodent's urine odour. Rodents urine smell is very musky which makes easier to recognise them.

Left Food:

The mice and rats have their own way to eat food. They have a tendency to leave food partially. So, whenever you see food left behind, it may have been done by mouse or rat.
Grease Marks:

Mouse or rat's oily skin fur leaves its mark on the walls and floor. Their mark repeatedly comes when you wipe it down.

Gnawing:

The mice and rats have a habit of chewing. If you see holes in things like clothes, ceiling, behind or bottom in the cupboard, etc. you can easily recognise that there is a mouse infestation.

Droppings:

Droppings are the biggest clue for their recognition. Their droppings are very smooth and have pointy ends and have a length of 4mm.
Health and Economic Issues Caused by Rodents
There are a lot of health issues caused by rodents like the plague and many more. Here are given some health and economic issues which are caused by rodents:
Rodents chew all the electric wiring and it causes a big fire at the home or offices. If you see any firing without any reason in your home or office, it is most probably by rodents.
Rats eat a lot of foods and then contaminate it with their hairs, droppings and urine. almost 20% of the world's food contaminated by rats and mice.
They damage everything such as books, furniture, electrical appliance etc, by gnawing.
Rats are vectors of spreading diseases to both animals and humans by biting. They give bite fever, hantavirus, pulmonary diseases etc, by biting.
They also transfer lice, fleas, ticks and mites etc.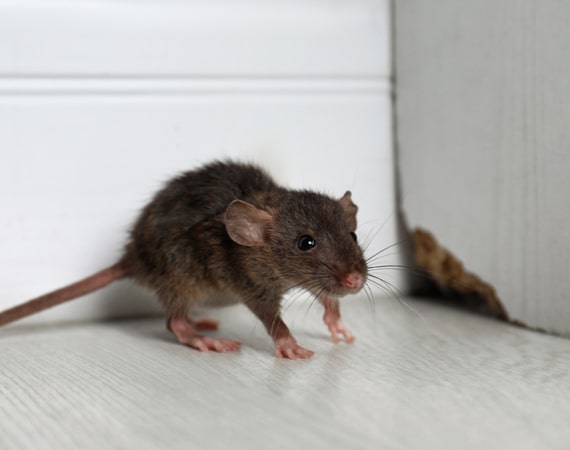 How to Deal With Them?
The best way to deal with rodents is to keep them away from your premises.
Rats are mostly vegans, so at the very first, clean all the weeds and unwanted plant clipping etc from your garden or near surroundings.
Water puddle and open food attract rats and mice to drink and eat. Make sure that all the leakage of the house is fixed and there is no food left open in the kitchen or any area in the house.
After all the above dealings you can use mouse traps and mouse repellents. After the mouse gets trapped in the mousetrap, dispose of them far away from home, so that they didn't come back again.
Or the best way to keep the mouse away from home is to use professionals help. Pest Control Pakenham is the best rodent control service providers in your locality.
Why Choose Us For Rodent Control Pakenham?
Rodents can create very big problems sometimes if you do not control them. In case you always want to choose the best for your home, then we are the one-stop destination for your rodent control service.
Here is Why:
We are the leading and most recommended service providers in pest and rodent control service.
Our professionals use green and eco-friendly mouse repellents to get rid off from the mouse.
Our professionals are well trained and police certified which makes sure your quality rodent control and home safety.
We have thousands of happy and satisfied customers with our service.
FAQs on Rodent Control Pakenham
Q. How often should rat control be done?
We recommend you to get a rat control inspection after every 3 months. This will help you in keeping your place safe from the attack of rats. There is no fixed limit. You have to be aware of their movements to live a risk-free life.
Q. How long does professional mice control last?
Our professionals are well trained and experienced in the mice control service. They know better what to be done for different mice. It generally takes 2-3 hours for a normal size room to make it free of mice. The effect of the service can last for years if you will follow our guidelines after the mice control services.
Q. Where should I look for Possums in my property?
Possums belong to the rodent families and they live in holes. You can generally see them in the storehouse. In the case of infestation, they can be seen anywhere in your property. Hire us for possum control service in Pakenham.